Panels - June 27, 2022
Reimagining the role of global agriculture on the path to Net Zero emissions
Keynote address and interview with Dr Agnes Kalibata, President of Alliance for a Green Revolution in Africa, led by Jeevan Vasagar, climate editor at Tortoise Media.
Introduction and welcome from Baroness Royall of Blaisdon, Principal of Somerville College, OICSD Research Director Professor Radhika Khosla and Mr Jai Shroff, Global CEO of UPL Ltd.
Time: 13:00-14:15
Event link: bsg.zoom.us/j/97136938602?pwd=Z2xlV0ljTWEvbzA1dVpJMGxyRnBMUT09
Passcode: 496574
Panel 1: What are the opportunities and challenges for financing the transition to Net Zero agriculture?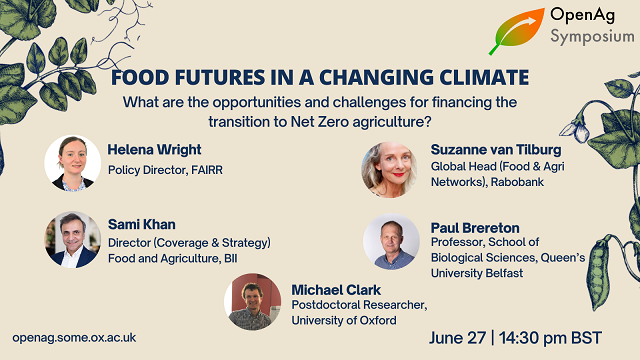 This panel will discuss the business case for Net Zero agriculture, examining the best possible ways to support agriculture's transition towards positive climate action. Agribusinesses are increasingly faced with the urgent need to develop innovative and ethical solutions to maintain a balance between food security and environmentally sustainable practices in the face of climate change. The panellists will examine the changing role of agribusinesses, as well as banks and financial institutions, in the climate debate, all while keeping stakeholder interests of farmers, consumers and the environment into consideration.
Time: 14:30-15:30
Event link: bsg.zoom.us/j/99007380199?pwd=eEcwS1RTYzVsYWJrWDlGcXJUSUhHQT09
Passcode: 501497
Speakers: 
Paul Brereton – Professor, School of Biological Sciences, Queen's University Belfast 

Helena Wright – Policy Director, FAIRR 

Suzanne van Tilburg – Global Head (Food & Agri Networks), Rabobank 

Sami Khan – Director (Coverage & Strategy) Food and Agriculture, BII 
Moderator:
Jerome Hasler - Chief of Staff, UPL 
Panel 2: How do we pave an equal and inclusive path to Net Zero Agriculture?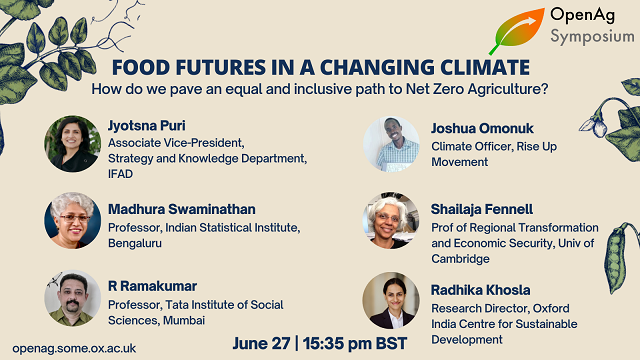 In the face of environmental challenges and climate risk, technological interventions are being deployed to meet food security challenges – but how does this intersect with ideas and practices of social inclusivity in the agricultural sector? For instance, we know that the way farmers and farms are operating is changing with new technology and innovation, some of which require kinds and levels of education often denied to women. How has the role of women in agriculture changed with new practices, if at all? This panel will discuss ways in which sustainable development initiatives in agriculture could be more inclusive and equitable for all.
Time: 15:35-16:30
Event link: bsg.zoom.us/j/92373389493?pwd=STNpamFnckc1TzdZZ3dBOU9EOHZ6UT09
Passcode: 049339
Speakers: 
Shailaja Fennell – Professor of Regional Transformation and Economic Security, University of Cambridge
Joshua Omonuk – Climate Change Activist, Rise Up Movement 

Jyotsna Puri – Associate Vice-President, Strategy and Knowledge Department (SKD), IFAD

Madhura Swaminathan – Professor and Head of the Economic Analysis Unit, Indian Statistical Institute, Bangalore

R Ramakumar - Professor, School of Development Studies. Tata Institute of Social Sciences, Mumbai
Moderator:
Radhika Khosla – Associate Professor at the Smith School of Enterprise and Environment, School of Geography and the Environment, University of Oxford  
Panel 3: Competing or collaborating? Synergies between renewable energy and agriculture for accelerating Net Zero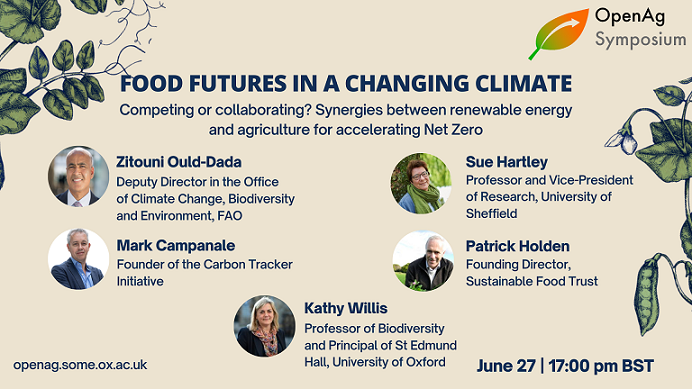 From how and why land is used to the availability of government subsidies for green industrial development, renewable energy infrastructure and sustainable agriculture have often been cast as uncomfortable – if not outright competing – fellows on the path to Net Zero. But with an increasing overlap in decarbonisation activity, what are the shared objectives for agriculture, renewable and green industry and what are the most compelling models for cross-sector collaboration? What are the opportunities and challenges to scaling up renewables in agriculture? How can land-use be complimentary between renewables, crop cultivation, and water usage? This panel explores the synergies between renewable energy, agriculture, and wider green industrial development and makes suggestions for greater collaboration.
Time: 17:00-18:00
Event link: bsg.zoom.us/j/91656786990?pwd=aUtSZ2tmQUtRUXBXYUZCQVE4ZnJMQT09
Passcode: 979373
Speakers: 
Zitouni Ould-Dada – Deputy Directory in the Office of Climate Change, Biodiversity and Environment, FAO 
Sue Hartley – Professor and Vice-President of Research, University of Sheffield

Patrick Holden - Founding Director, Sustainable Food Trust

Mark Campanale - Founder of the Carbon Tracker Initiative  
Moderator:
Kathy Willis – Professor of Biodiveristy and Principal of St Edmund Hall, University of Oxford